Convenience... Two plant locations to serve you. Our plants are centrally located in major market areas to provide savings in freight costs and reduced shipping time to your customers.
Service... For prompt response and personal service contact PrintEdd. One of our experienced professionals is readily available for you so you can avoid the "telephone tag" that is common at some other manufacturers. In addition, every one of our Customer Service Representatives has their own e-mail address for your convenience. Call or e-mail... It's your choice!
Delivery... A major selling strength for the distributor to take advantage of is PrintEdd's fast, flexible delivery schedule. Standard turn-around time is 7-10 days, plus you have a choice of 1, 2, 3, or 4 day rush service. Diversified equipment capabilities and Customer Focused people allow us to react to your individual needs.
Products... We specialize in Checks and Forms of all sizes and varieties. Quantities as small as 500 up to 1,000,000+ are offered in Cut Sheet, Snap, and Continuous Business Forms.
EQUIPMENT CAPABILITIES
Composition... Complete computerized typesetting from basic type to a wide variety of designs including laser graphics. Over 20 standard pantographs; and many standard borders, warning bands and endorsement backers are available to meet your design needs. Call for your chart for easy reference. Fast proof service is a priority with Standard Proof turn-time of 3 days! Discounts are offered for camera ready copy, negatives furnished, disk provided, or e-mail file. Contact PrintEdd for details.
Presses... Diversified press capabilities featuring 14", 17", and 22" cylinders. Folders and Sheeters on most presses. Four and five color printing on some sizes --- consult factory.
Collators... Snap, can collate up to 12 parts with crash numbering available. Continuous, can collate up to 8 parts. Features include crimping, tab-locking, interruptible gluing, and crash numbering.
Finishing... MICR numbering offered on Cut Sheets, Continuous and Snap Forms. Complete Bindery offers Padding, Book Binding, Drilling, and Custom Packaging.
Crash Printing... Programs available for Crash Printing checks and other documents. Die-cutting and forms repair also available.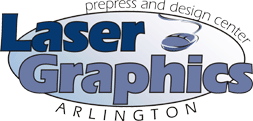 Laser Graphics is a full service PrePress and Design Center. In addition to basic "Service Bureau" services, we offer professional design in Business Forms, Commercial Printing, and many other Marketing products. We can assist you all the way from design, to proofing, to negatives, to disk... or whatever format that will make it easy for your printer.
Call or visit our Design Center today. We offer personal one-on-one service in person or on the telephone.

Print Graphics is a professional printer that produces and markets "flat printing" to distributors. Benefits to distributors include... 5 day deliveries, competitive prices, quality printing, professional packaging, and personal service.
Everything we do is geared to meet the needs of the professional distributor.